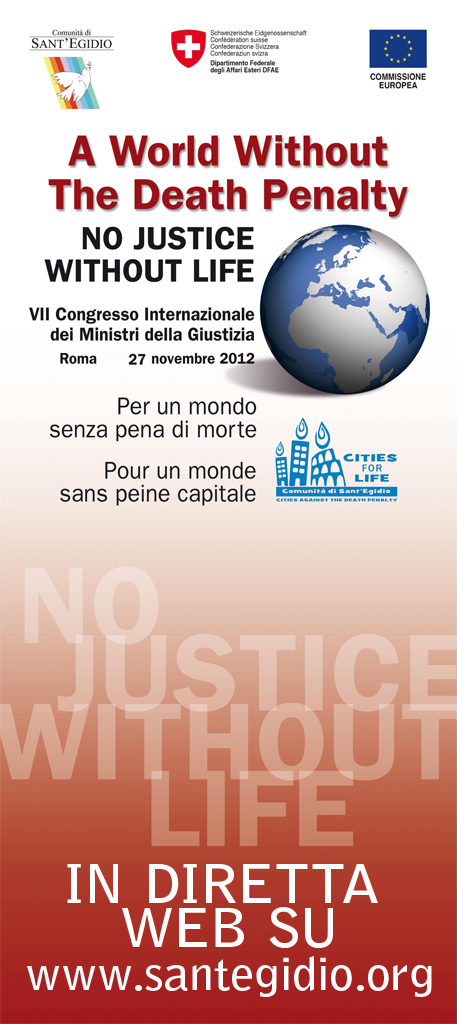 The International Day of Cities for Life will be inaugurated in Rome on November 27 during the VII International Congress of Justice Ministers: "For a world without the death penalty."

www.santegidio.org will stream live the event from 9.30 a.m.

Along with Italian Justice Minister Paola Severino, other speakers include Robert Badinter, leading figure in the historic battle that led to the abolition of the death penalty in France, constitutionalist Valerio Onida and other Justice Ministers, European authorities and international participants in the battle for abolition. A delegation from Connecticut will give an account of the steps that led to the recent abolition in the American state.

Justice Ministers and other government representatives of 20 countries will be on hand, as well as delegation from Switzerland, the U.N. and the European Union, which support the international conference.

WHY HOLD INTERNATIONAL CONFERENCES OF JUSTICE MINISTERS?

The conferences represent a laboratory for the method of conducting the campaign, which continues at all levels, from civil society to dialogue with leaderships and political figures, during the year in all of the countries taking part. The conferences have been a way of creating and taking part in the efforts to achieve abolition in countries like Gabon, Mongolia and Uzbekistan as well as gaining more support for the U.N. Resolution calling for a universal moratorium.

TEN YEARS OF CITIES FOR LIFE, CITIES AGAINST THE DEATH PENALTY, A WORLDWIDE MOVEMENT OF CIVIL SOCIETY AND ADMINISTRATIONS

The International Day of "Cities for Life, Cities against the Death Penalty" – which is celebrated every November 30 in commemoration of the anniversary of the first death penalty abolition enacted by a European state – represents an extraordinary initiative that over recent years has gathered numerous local administrations and civil societies that promote this decisive battle for mankind all over the world. Together with the World Day, which is celebrated every October 10, it constitutes the largest worldwide annual mobilization against the death penalty, involving over 1,500 cities.

In Rome and in other Italian and European cities, leading figures of the international battle for a higher level of justice will take part in the events, from David Atwood, founder of the Texas Coalition Against the Death Penalty, to Bud Welch, a relative of one of the victims of the terrorist attack in Oklahoma City, and Tamara Chikunova, founder of the movement of Mothers against the Death Penalty in the former Soviet republics.

The final ceremony will take place in Rome on November 27, at 19:00, with a special illumination of the Colosseum, which has become the international symbol of the International Day of Cities for Life
Many ways to monitor and support the campaign:
Watch the spot "Cities for Life 2002-2012":: ITALIAN - FRENCH - ENGLISH - SPANISH
Visit the Campaign official website: nodeathpenalty.santegidio.org
Visit the Cities For Life Blog