Community of Sant'Egidio





Antwerp 2014
7-9 September



Religions and Cultures in Dialogue
100 years after the 1st World War

On Tuesday, 11 February in the Town Hall of Antwerp (Belgium) they presented publicly the interreligious prayer meeting for peace entitled "Peace is the Future", organised by the Community of Sant'Egidio and that will take place in the Belgian city from 7 to 9 September, 2014 .

In addition to the people in charge of the Community of Sant'Egidio, the presentation was also attended by Bishop Johan Bonny, commissioner of the city for culture and religion Philip Heylen , Aharon Malinsky for the Jewish community and Hicham El Mzairh for the Muslim community.

The event aims to reaffirm strongly that the spirit of Assisi is more necessary than ever in today's world, which has a valuable contribution to make in the memory of the centenary of the First World War, which has marked this part of Europe so much.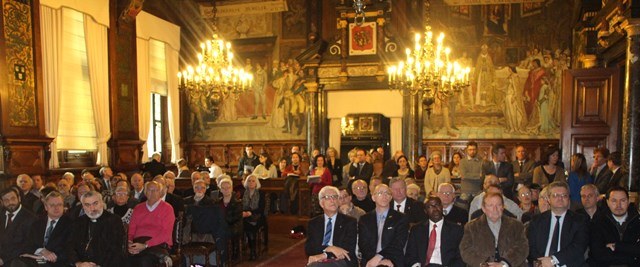 Also present were the ambassadors, bishops and pastors of various Christian Churches, leaders of the Jewish and Muslim communities of the city and supporters. The event was met with great sympathy and willingness to cooperate.

Further information about the event will be posted shortly on: