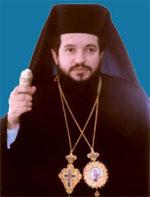 His Eminence, the Most Reverend Seraphim (Kykkotis) of Zimbabwe is the Metropolitan of the Archdiocese of Zimbabwe in eastern Africa, part of the Greek Orthodox Patriarchate of Alexandria and All Africa. Prior to his assignment to Zimbabwe Metr. Seraphim was Metropolitan of Johannesburg and Pretoria.

LIFE
George Philip Iakovou was born on February 2, 1961 in Galataria, Paphos. George knew that he wanted to serve God at an early age. At the age of twelve years he was accepted as a novice, with the name Seraphim, at the Monastery of Kykkos on the island of Cyprus. The young Seraphim was a very good student, first attending the Pan-Cypriot High School and then the Lyceum of Kykkos from which he graduated in 1982, with honors.

On September 8, 1983, Seraphim was ordained a hierodeacon by His Eminence Chrysostomos, Archbishop of Cyprus. He continued his education with studies at the Theological Faculty of the National Kapodistrias University of Athens from which he graduated in 1987. During the period he attended the theological faculty, Fr. Deacon Seraphim served with the blessing of His Eminence Archbishop Seraphim of Athens as a deacon in the archdiocese. Upon return to Kykkos in Cyprus, Fr. Deacon Seraphim served as treasurer of the monastery.

From 1988 to 1993, he continued his education in Great Britain, studying English and patristics at the Universities of Oxford and Durham under the Professor of Orthodox Theology, His Grace Kallistos Ware. He continued his studies in patristics at Holy Cross Seminary in Brookline, Massachusetts, graduating with a Master's degree in Patristics. While pursuing his education Fr. Deacon Seraphim was ordained a priest on August 15, 1991, and was raised to the dignity of archimandrite. In 1993, Arch. Seraphim became a member of the department of post-graduate studies at Athens University, specializing in Theology. During this period Arch. Seraphim served as a priest in the Archdioceses of Thyateira and Great Britain and Athens.

On September 28, 1997, consecrated Archbishop of Kenya by His Beatitude Petros VII, Pope and Patriarch of Alexandria and All Africa and enthroned on November 16, 1997. Additionally, between 1997 and 2001, Abp. Seraphim served as Director of Archbishop Makarios III of Cyprus Patriarchal Seminary in Nairobi. On March 18, 2001, Abp. Seraphim was enthroned Archbishop of Johannesburg and Pretoria, as the successor to the deceased Abp. Ioannis.

In October 2010, a rearrangement of diocesan responsibilities was made within the patriarchate of Alexandria to accommodated additional duties for Abp. Seraphim (Kykkotis) of Johannesburg and Pretoria as a patriarchal representative. As part of the rearrangement, Abp. Seraphim was transferred to the smaller Archdiocese of Zimbabwe. Abp. George (Vladimirou) of Zimbabwe was transferred to lead the Archdiocese of Accra, replacing Abp. Damaskinos (Papandreou) who succeeded Abp. Seraphim as Archbishop of Johannesburg and Pretoria.

His Eminence observes his Names day on January 2 in memory of St. Seraphim of Sarov.

(September 2016)