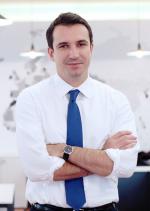 Mr. Erion Veliaj was born in Tirana on December 17, 1979.

He has BA degree in Political Science from the Grand Valley State University of Michigan, USA, and a MSc in European Studies from the University of Sussex, UK.

Mr. Veliaj entered politics after a long engagement with the civil society. In 2003, Mr. Veliaj founded the movement "MJAFT" (Enough), an organization that unified the activist and protest spirit of the Albanian youth, which in 2004 received the United Nations Award for civil society. He led the "MJAFT" organization until November 2007. Then Mr. Veliaj joined the European Stability Initiative, a key organism in the promotion of EU enlargement.

In 2011, Mr. Veliaj joined the Socialist Party of Albania as Secretary for Youth and Migration. In the parliamentary elections of 2013 he was elected as a Member of the Albanian Parliament in Gjirokastra.

Mr. Veliaj has a very good knowledge of English and Italian language, and is fluent in German and French.

[September 2016]