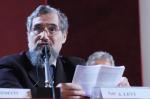 He got his education in philosophy in Jerusalem, Paris and Copenhagen nad he then specialized on Jewish studies at the Jewish Theological Seminary of Jerusalem.
In 1990 he was appointed as Lecturer of Evolutionary Psychology and History of Jewish Philosophy in the Renaissance at the Jewish University of Jerusalem. Since 1997 he has been lecturing History of Jewish Thought at the University of Siena and at Stanford University.
He is Chief Rabbi of Florence and oriental Tuscany (Siena, Arezzo, Prato, Pistoia) since 1996. He is actively involved in the inter faith and inter cultural dialogue, counting a number of publications on the Jewish thought and the link between Judaism and psychology.
(september 2010)