Synod of Bishops for Africa
October 26, 2009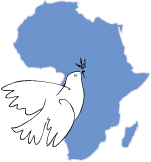 Saturday, October 24, 2009 the work of the Synod for Africa ended. The Community of Sant'Egidio has accompanied in prayer the work of the synod, promoting also a special liturgy for Africa in the basilica of Santa Maria in Trastevere, on Sunday 18 October.

Some representatives of the Community of Sant'Egidio Africa took part in the work of the Synod Assembly and offered their assistance.

Among the propositions of the Synod, an important ruling in favor of the abolition of death penalty
Intervention of Kpakile Felemou of the Community of Sant'Egidio in Guinea Conakry to the Synod for Africa (EN)

Intervention of Elard Sadimba Alumando
of the Community of Sant'Egidio in Malawi (IT)


Liturgy For Africa in Rome, Basilica of Santa Maria in Trastevere, October 18th 2009 (1' 50'')

Liturgy For Africa in Rome, Basilica of Santa Maria in Trastevere, October 18th 2009
Photo Gallery

Liturgy in the Jail of Regina Coeli in Rome


Speech of Cardinal Etchegaray
Homily of Mons Vincenzo Paglia
Speech of Andrea Riccardi