Rome: In the Basilica of San Bartolomeo, memory of a Cambodian bishop, victim of the Khmer Rouge genocide
september 17th 2010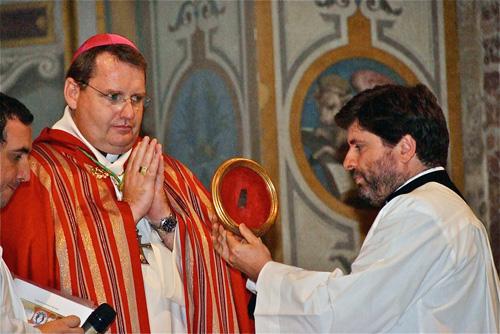 On Sept. 16, Msgr. Olivier Schmitthaeusler, coadjutor bishop of the Vicar Apostolic of Phnom Penh, Cambodia, delivered to the Community of Sant'Egidio a memory of Msgr. Joseph Chhmar Salas, his predecessor, who died of starvation at the age of 39 in September 1977 during the genocide made by the Khmer Rouge regime.
It is a fragment of the wooden bed on which, during the deportation, the bishop celebrated the liturgy illegally.
During the regime of the Khmer Rouge, who are estimated to have caused over one million and seven hundred thousand victims, any religion was prohibited and punishable by death.
After the prayer, the fragment was placed on the altar where the memories of martyrs and witnesses of the faith of Asia and Oceania are kept.