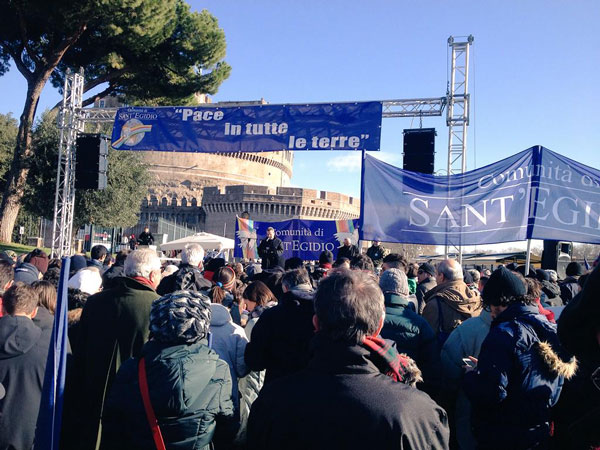 During the Angelus of 1 January, Pope Francis greeted the tens of thousands of people who participated in "Peace in all lands", the march that ended in San Pietro, promoted by the Community of Sant'Egidio with the support of numerous associations and religious congregations.
But this year, reading the posters that the demonstrators had taken to the square, he also wanted to talk to them, encouraging them to pray and work for peace in any place of the world: "I can read that"peace is always possible": we must always look for it. I'm also reading that "prayer is at the root of peace": we must remember it well". The Pope also addressed the Schools of Peace of the Community of Sant'Egidio - spread across all continents, from Europe to Latin American and African shantytowns with a programme of education for peace and coexistence - encouraging them strongly to continue in their work "There are also those beautiful Schools of Peace: we must move forward with this peace education".
This year, in addition to Rome, the peace march promoted by the Community of Sant'Egidio was held in more than 800 cities in the world remembering, like in St. Peter's, the names of all the countries still crossed by conflicts. "We are here in the square - said president of the Community Marco Impagliazzo - not for ourselves, but for those who suffer. We are here not for a simple testimony but to be heard: a great movement has grown in the world. We must make peace popular, not war".