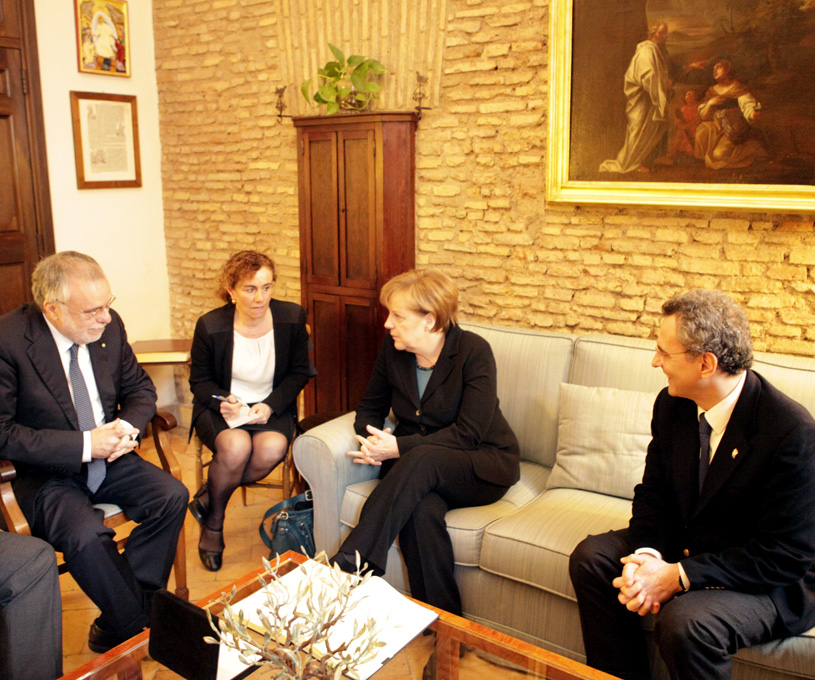 In her short stay in Rome, after the hearing of Francis Pope in the Vatican, Angela Merkel visited the Community of Sant'Egidio. The German chancellor, who had already participated in 2011 at the interreligious meeting promoted by Sant'Egidio in Munich, stopped at the headquarters of the Community, in the heart of Trastevere, for over an hour. In an interview with the founder of Sant'Egidio, Andrea Riccardi, they addressed the issues emerging in the international scenario, the integration of immigrants "new Europeans" and the journeys of despair to our continent, which show a growing number of casualties. Riccardi expressed the "deep concern" of the Community for this emergency by telling the stories of some people that have fled the war, and the Chancellor defined them as "terrible" and "unbearable".
In the Hall of Peace, where in 1992 Sant'Egidio succeeded in bringing to an agreement the two parties of Mozambique at war, Merkel listened to the greeting by Marco Impagliazzo: "Peace - said the president of the Community - is people's greatest desire. We Europeans have made it into a cornerstone of our integration. We have suffered too much and have made suffer due to the war. For this, as Europeans, and as Christians, we are committed to advancing peace. There is a challenge that touches Europe today: to live together peacefully. A work of cultural and human enlightenment is necessary here to overcome mistrust, prejudice, divisions".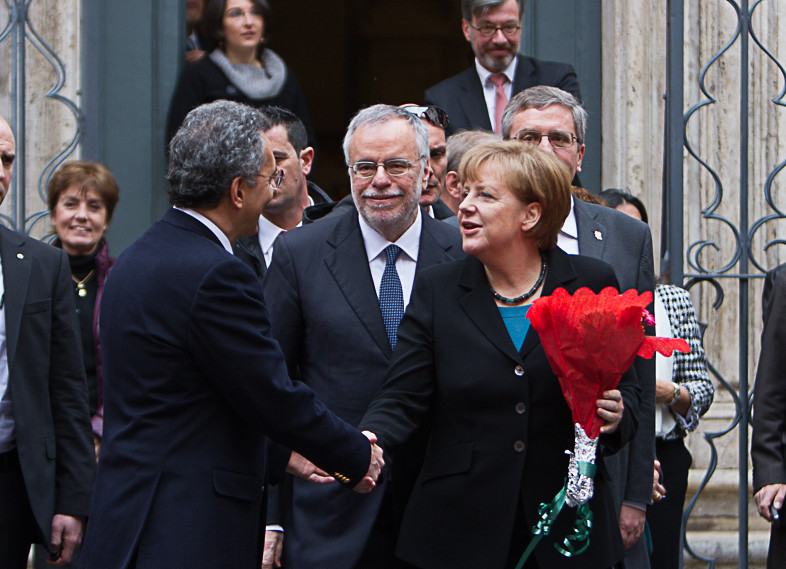 In the same room, the Chancellor replied speaking of the Community as "brave people for peace" and, warning Europe that "peace is not to be taken for granted", urged EU countries to "engage in spreading peace in the world, as you do, carrying your testimony to many places of the world, not just talking about peace but living it: I think of the many gestures of reconciliation that you have made possible, creating bridges".
After invoking a "diplomatic solution" to the war in Ukraine, she urged "not to turn a blind eye to the conflicts in the world, because the problems we can not solve directly may also become a problem for us". In the face of migration flows, she invited to be responsible: "We must commit ourselves and have the courage and confidence to take the task of freeing people from poverty and war, of helping children".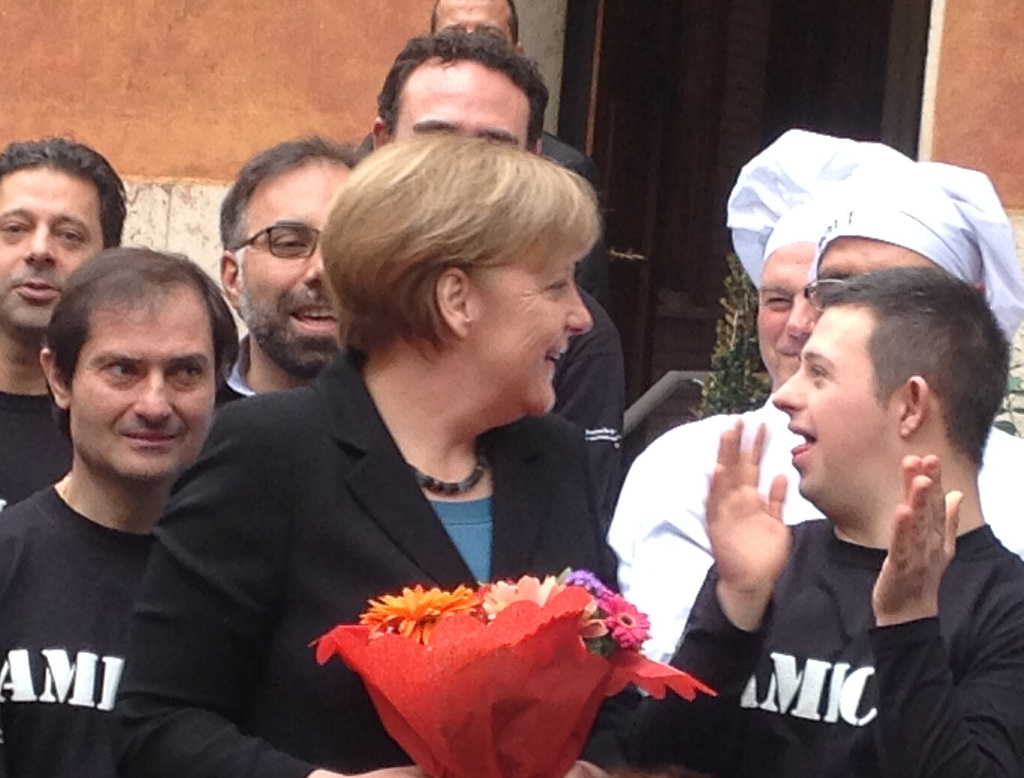 Finally she thanked the Community for the meeting: "We were able to stay in this place where one gets the strength and courage, inspired by Christian roots, where eyes are not closed, where problems are addressed and people take responsibility for their own contribution. You have a broad thought and the freedom not of something but for something. You use this human freedom to change the world".
Before leaving, Angela Merkel stopped for a souvenir photo with the workers of the Trattoria degli Amici, Sant'Egidio square, managed by the Community in integration with some disabled people.