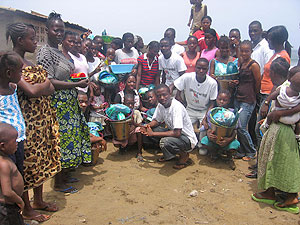 Some weeks ago a violent fire destroyed a very poor shanty town, which was located on the seashore of the Atlantic Ocean in Monrovia.
Almost fifteen families had moved there when the refugee camps were taken down and have been living in that area for about three years.
The Community of Sant'Egidio then opened a School of Peace there.

The city of Monrovia expanded quickly, in a disorderly and chaotic way, after the end of the war. A lot of displaced people couldn't go back to their villages and towns which had been razed to the ground or occupied by other people during the war. They decided to stay in Monrovia, in the hope of finding a decent place to live and a job.
Some families settled on the beach, in an unhealthy and unsafe place, while waiting for a better accommodation which never arrived.

The conditions are unliveable: the houses which are near the water get flooded when the ocean is rough, the health and sanitary conditions are terrible. Two years ago a child drowned while he was playing near his home, swept away by a wave.
The fire which broke out some weeks ago, caused accidentally, spread rapidly and destroyed the living quarters owing to the precarious materials used to build them.

The Community of Sant'Egidio in Monrovia stepped in right away to help the families which lost everything, handing out clothes and basic necessities in order for them to resume everyday life: kitchenware, pots and pans.