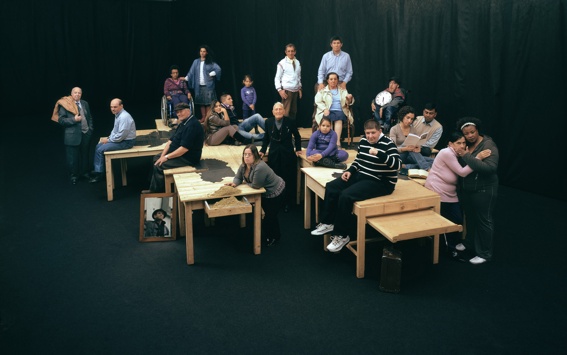 On 14 September, an exhibition of "tavoloItalia" was inaugurated in Cesena, in the church of Santa Cristina, which will run until next 27 October.
tavoloItalia is a work created by artist Anton Roca within the exhibition Noi, l'Italia, promoted by the Art Laboratories of the Community of Sant'Egidio on the occasion of the 150th anniversary of the Unification of Italy and inaugurated by the President of the Italian Republic, Giorgio Napolitano, at the Quirinale Palace on 3 December, 2011.
Noi, l'Italia has been the first example of cooperation between the people with disabilities of the Art Laboratories and an accomplished artist. Around tavoloItalia, Roca brought together 20 Italian people who build an image of the united and plural Italy making use of stories, traces of memory, desires and aspirations for the future.
Roca explained that tavoloItalia "consists of 20 wooden tables, differing in height and width, that we have assembled all together". A silhouette of Italy lies above, whose inhabitants, starting from different conditions of marginality (the disabled, Roma, immigrants, the elderly, the poor) became aware of being able to live in it and build it. The artist continued that the first step of this process, which was made by all together and lasted a year, was to give them a voice. They talked about their experiences of exclusion, their desires and aspirations. So the work of art has become a 'new territory', not only artistic but also human."
Cultural Adviser of Cesena Maria Elena Baredi, Prof. Simonetta Lux, the curator of the exhibition Noi, l'Italia, a delegation of the Laboratories of the Community of Sant'Egidio and some of the protagonists who have given birth to tavoloItalia were present at the inauguration, which was attended by over a hundred people.
These days are a significant moment for the cooperation between accomplished artists and the Art Laboratories at the Venice Biennale where there is the project I/O_Io è un altro made by César Meneghetti and promoted by the Community of Sant'Egidio.