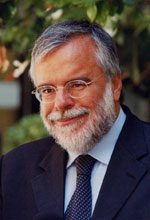 Historian, Founder of the Community of Sant'Egidio
Mr. President of the Republic
Beatitude, distinguished religious leaders,
Dear friends,

I am glad that our international meeting takes place in Tirana. I thank particularly the President, the Prime Minister and the Albanian authorities, while my thoughts go to how much the Albanian religious denominations endeavoured for this congress to be held here.

This is one of the reasons we are where: Albania is a plural nation from a religious point of view. Sunni Muslims, Orthodox Christians, Catholics, Bektashi, indeed do live together. It is the historical legacy of Albania. It is not a remnant of the past. Living together among different people is actually a reality for numerous societies around the globe. Homogeneous societies, without "the other", no longer exist. No society is an island. Living together among different people creates problems, yet it is a resourceful human situation that fosters daily dialogue. This is Albania: land of living together.

However, this nation was wounded deeply. In the dark years after World War II, this was the land of "accomplished Communism". All liberties, peculiarities, diversities, were banned. Religion too was banned, to the extent that in 1967 Albania was declared the first completely atheist nation in the world. Any religious act was prohibited and severely punished. In those years, freedom, conscience, faith meant martyrdom for many people. This is a land of martyrs. It was not by chance that Mufti Mustafa Varoshi and Catholic Archbishop Prendushi ended up in the same prison, and in the same graveyard, in Durrës. According to Amnesty International, in 1991 there were still 31 operational concentration camps in Albania.

Gjovalin Zezaj, a dear friend who survived the gulag, used to tell: "they carried back a prisoner, with evident signs of harsh torture, he could not stand, and I heard him whisper: this really is hell". Yes, hell.

Albania was sealed at its borders. They had also sealed the space of heaven and consciousness. Albanians suffered severely in forty years of regime. This may appear to be a very old story. I myself got to know that world in the Eighties. It was a grey, closed, violent world. Today it seems unthinkable, impossible, that such a system of life existed, like a bad dream, a nightmare of history. But it did exist.

Still in the Eighties, the regime appeared to be solid, with no signs of change or liberty. It seemed destined to last for a long time. Instead, everything changed. I remember the enthusiastic days of the conquering of freedom. History is full of surprises, even after sealed, blocked and dark times. This is a lesson of hope, even today, in times of resignation over many unbearable and inhuman situations, where war and violence rule.

We wanted this meeting in the spirit of Assisi to be in Albania, gathering various religions, humanists, and people of thought. Because this is a land of living together in peace among different people; because this land has a legacy of martyrdom and quest for freedom, and also because the Community of Sant'Egidio has been close to Albania for decades, showing friendliness for its people, with concrete actions, and considering Albania an integral part of Europe.

We believe there is need of the spirit of Assisi. This spirit stems from the great meeting among leaders of the major world religions promoted by John Paul II in Assisi in 1986, in times of cold war: "no longer one against the other, but one beside the other". Religions, close to each other, are a powerful factor of peace and a school of dialogue. But the spirit is ahead of religions: the spirit questions them though history, through the quests for peace and the cries that rise from war and from historical divisions. Religions are challenged to listen together to quests and cries. Not only those of their fellow believers, but of the whole world and of those who suffer. Religions too are in need of the spirit of Assisi, which is dialogue and listening to the cries of history.

Religions have been (and can still be) – as we know – instruments of division, contraposition, conflict. The spirit of Assisi is withdrawal from the warmongering distortion of religions and a fresh discovery of peace as a message rooted in tradition. It is the contagion of the culture of dialogue and encounter.

In this very spirit we have walked in the past thirty tears, with landmark steps year after year, like in Warsaw in 1989, with unprecedented encounters that opened up effective routes of peace. Today there is something that concerns us: the widespread attitude of acceptance of a history of violence, terrorism, war. As if they were unstoppable trends. As if peace were a lost utopia of the past century (a time of numerous wars). One example is sufficient: Syria. For more than four years Syria has died every day under the blows of a horrible war, which has now lasted longer than World War I. In that country, among the millions who suffer, we remember dear friends of our dialogue, who have vanished, lost in the horror of violence: the Syrian bishops of Aleppo, Mar Gregorios Ibrahim and Paul Yazigi, and the Italian Paolo Dall'Oglio.

Peace for Syria seems impossible. Giving up on peace means to condemn the Country to death. The failure – this is the right word – of the international community is plain. However – I question myself – is there anywhere a movement for peace in Syria? Is there, anywhere in the Arab countries? Anywhere in Europe? Anywhere in the Mediterranean? The passion for peace seems to have worn out. In 2003 we witnessed a powerful movement for peace against war in Iraq, sister country of Syria. Today there is no concern, no protest, no invocation... for peace. A shared hope for peace, in the face of the failure of politics, is already a resource. Building peace is indeed a difficult endeavour, slow, realistic, but it is also a dream that can open many routes.

Can we accept to give up to war? Perhaps by pulling back into our small worlds of peace, in a sheltered corner, in a country. War, the culture of war, besieges us, at least through refugees. Like those who reach Europe, suffering, without knowing where to go and with no chance of returning to live in their countries. Just to make a case in point – Syrians come to Europe. Only a restored peace in Syria and in Iraq will make them stay in their land. Syrians, like other refugees due to war or to environmental disasters, leave their homelands. Who has the right to stop them?

Peace for us alone, without seeking it for others, not only is unjust but also no longer possible. We do not say this as dreamers (though dreams have their strength) but as people who have worked as peacemakers in concrete ways. Even here in Albania, as in other parts of the world. Achieving success, like in Mozambique, or struggling and with more limited results, in other situations, but always believing that peace is possible. Peace must be possible always, just as the hope to live, to be happy, to have a dignified life.

For this reason, dear friends, we asked a crucial question: is peace possible? This question sounds like a protest against war, and resignation that surrounds it. The act of protesting is not useless. The consolidation of resignation enables the mounting of worrisome trends, such as the rehabilitation of violence; and I add: the attractiveness of violence and terrorism. It is the case of the foreign fighters, who leave our European and Mediterranean countries to go and fight alongside the terrorists in the Middle East.

Is peace possible? This is a challenge addressed to believers. Peace is inscribed in their traditions; it is the object of prayer; it is considered by many people as the very name of God. Shouldn't religions open up a more solid debate on peace and its value? Religions themselves run the risk of resigning to war and violence, as an unavoidable reality. This happens when they fence themselves in and isolate themselves with their respective believers, removing the others from their sight. No religion is an island. Albania demonstrates this. Our cities demonstrate it. Peace begins by being together with others; it continues by educating younger generations to peace; it is consolidated by withdrawing from violence, delegitimizing it, stripping it of any religious and human value. Many wars, many forms of terrorism on the contrary steal their motivations, models and words from religions. They end up covering inhuman acts in the name of God or religious values.

Something needs to unblock in the world of religions: in front of the quest for peace of many peoples, in front of the refugees who knock on their doors, confronted with the theologies of violence. The self-centredness of believers is the slumber of the spirit. Religions must express the rebellion of moral consciences against violence and evil. Violence kills human beings, but before that it destroys their humanity and their religious soul. Old and ancient religious traditions cannot be hijacked in an orgy of globalized violence. That is why they must be unblocked. You see how peoples in different European countries unblocked and approached refugees, in spite of walls and populist protests. People free from the block of fear. Many Europeans approached people they did not know with friendliness, people who had been presented as invaders to them.

The Latin word for "religion" means bond. "Never without the other" Michel de Certeau used to say. Through love religion creates a bond with the other. That is why it is necessary to meet with each other and dialogue among different families of believers. And it is necessary to dialogue with secular men and women, with humanists. The best of secular thought converges with religious thought with regard to the value of life and peace.

It is necessary to look at reality in its face, with its sorrows. Religions always nourish hope that peace is possible, even in conflict. Even more, they can beckon the revolt of the Spirit against a hopeless (and mainstream conformist) way of thinking regarding war, which nourishes political decisions. Our time needs peaceful women and men, capable of uprising in the name of peace.

Great men and women of the spirit have always taught that where a synagogue burns, sooner or later a church, or a mosque will burn, and with them democracy and culture. Never destroy the temple of another. On Crystal Night in 1938, the parish priest of the Cathedral of Berlin, Bernard Lichtenberg, preached in these terms: "out there a synagogue is burning: it is the house of God". We cannot say: it is someone else's problem. We are different, but bound to each other: "All different, all related" Germaine Tillion used to say, who was interned in the Ravensbruck concentration camp.

Everything is bound together in this world of ours. For more than a year we have been in anguish over the condition of Christians and Yezids in the Middle East, forced to leave their historical homeland. This affects all religions.

During the facts of terrorism in Paris, in January 2015, self-defined Muslims killed other Muslims, Jews and non-Muslims. The words of the African immigrant Lassana Bathily, a practising Muslim who saved some Jews from the terroristic attach in the kosher supermarket, are a lesson: "Yes, I helped the Jews. We are all brothers and sisters. It is not a matter of Jews, Christians or Muslims, we are all in the same boat". It is a simple thought, yet decisive: war is unbearable; we need to make peace possible always. We are all in the same boat.