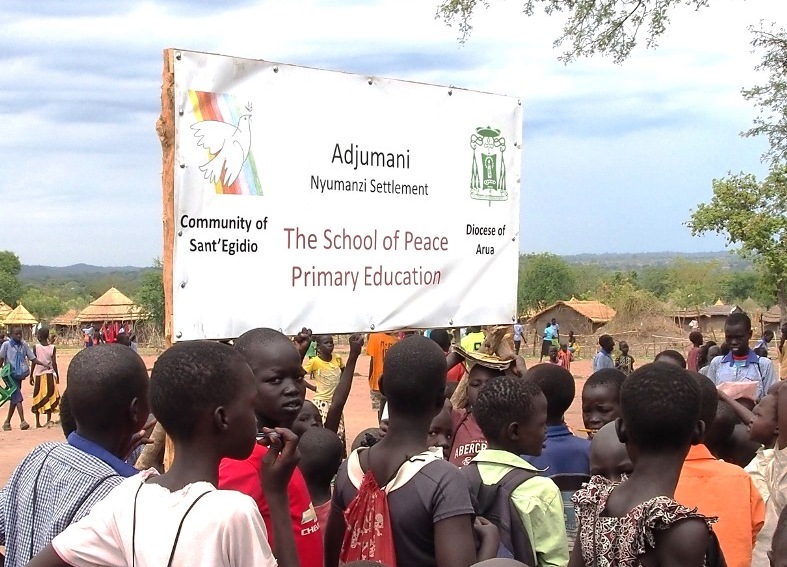 A big party in the refugee camp of Nyumanzi, near Adjumani in northern Uganda, for the delivery of the first brickwork classrooms of the primary school for refugee children of South Sudan made by the Sant'Egidio Community in collaboration with the Ugandan Diocese of Arua.
From now on, the lessons will be held indoors rather than under trees as last year. This ensures proper development of the educational activity precisely during the rainy season that has just begun and lasts until October. Last year the rains had created problems, slowing the teaching. The storms, in fact, come suddenly and force everyone to abandon lessons, and once school is abandoned, it is difficult to start again.
In addition to the classrooms, they completed even the fence around the land where the school is located and they delivered also a storehouse for teaching materials, important to keep records, blackboards, books within the school. Until now, the teachers were forced to take home the records and books, and this was not conducive to their work.

The school, which is considered a model for the refugee camp, has received praise from the Ugandan authorities, who have recognised it officially in October 2014. That of Nyumanzi has thus become the only school in the area that may issue a diploma recognised in Uganda, but which is valid also in South Sudan.
The delivery of the first classrooms is an important step forward for this school, a gift for the more than one thousand students that attend it and that consider the possibility of studying as an unexpected gift of God. It is so that, last 19 April, many gathered in the school to participate in a prayer of thanksgiving together with the Community of Sant'Egidio of Adjumani.
April 2014: They attend school under the trees in the refugee camp of Nyumanzi

April 2015:

The new classrooms: the finishing touches