"The future of children is an unavoidable demand for commitment." With these words, Marco Impagliazzo, president of the Community of Sant'Egidio, inaugurated the Nutritional Centre in Blantyre, Malawi.

In the presence of hundreds of children, the archbishop, local authorities, representatives of the Community of Sant'Egidio, from Malawi and from Rome, was inaugurated on June 4, Machijngiri in the district of Blantyre, the Nutrition Center of the Community of Sant 'Egidio, named after John Paul II.
The Center is directed and animated by the activists of the movement I Dream, and is for children in the neighborhood of Machijngiri living in situations of acute poverty.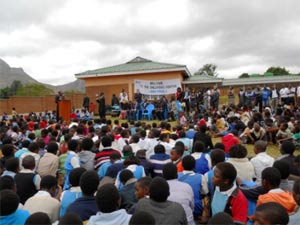 The Centre is near an elementary school attended by about 2,500 children, of which 320 orphans. It will provide a daily meal, according to a appropriate nutritional diet to hundreds of local children. Activities for the School of Peace and general support to those most in need are also planned in the center.
Il Centro è composto da due grandi sale da pranzo, una cucina, un ufficio per le registrazioni delle adozioni a distanza, lavatoi per le mani, bagni a misura di bambino, un grande magazzino per gli alimenti e tanto spazio per il gioco e le attività di animazione.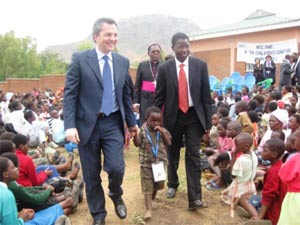 The Centre has two large dining rooms, a kitchen, an office for records of sponsorships, a palce for washing hands, bathroom fit for children, a large warehouse for food and plenty of space for games and activities
.

During the opening ceremony the director of elementary school, the Mayor of Blantyre and the archbihsop Mgr.
Zyiaye, thanked for the gift of the Nutritional Centre highlighting the beauty and its value.
The speakers highlighted the need to nurture children to enable them to study and learn, but also the support that the Centre will provide to poor families who struggle to feed their children.

The President of the Community of Sant'Egidio, Marco Impagliazzo, thanked the European donors who have allowed the project execution.
The sustainace of the Centre will be ensured by the network of sponsorships of Communities of Sant'Egidio
.
The President cited the commitment of the DREAM program and the program Bravo!
for African children, recalling the recent successes achieved by both.
"Children who come to this center - he added - wil be as our children.
They will find a warm and loving family.
Their future is our unavoidable demand for commitment. "


During the ceremony a plaque dedicating the center to Pope John Paul II was also discovered.
The letter of the pope in 1994 was quoted:

"How important is the child in the eyes of Jesus. We can say that the Gospel is the truth about the children.
We can read the Gospel in its entirety as the 'Gospel of children'. "

From today, Blantyre, in one of the poorest neighborhoods of the city, there is an open house where children find a friendly and caring family together with a great meal.