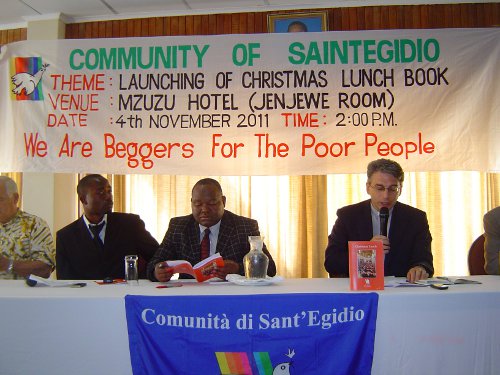 On November 4th in Mzuzu, the University city of the Northern Malawi, has been launched the book of the Community of Sant'Egidio, entitled: "Christmas Lunch".
At the launch there were more than 100 people who filled one of the Conference hall at the Mzuzu Hotel. This event has served as an image of what the Community in Malawi is doing, more especially in this period where the people are busy preparing for the coming 25th of December. It has been an event that most of the media have talked about.
The Principal of Mary Mount Girls Secondary School in Mzuzu, Mr. Gerard Shaba expressed his gratitude to the Community for having revolutionized the image of Christmas. He emphasized in saying: "from childhood, in Malawi, in most cases, talking about Christmas means having a new pair of trousers. I remember very well the way I eagerly waited for that present when I was young. This book instead, is teaching us that Christmas is not waiting for a present for us, but preparing ourselves to give, this really changes the prospective that we have been used to"- he continued to say, "the Community - said Mr. Shaba – have this courage to tell us that Christmas all a different thing from what the world lives, and from what the world considers it to be, and today they have come to say it right away in this Hotel which is also a place of big affairs, great conferences, but we have never had the courage to talk clearly about the poor".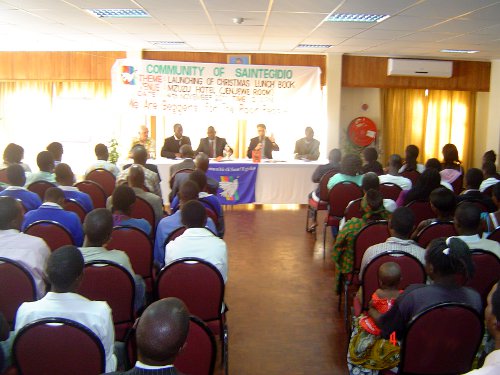 And Mr. Richard Hara, the Mzuzu District Commissioner, added to say: "with this book, Sant'Egidio is challenging us: mostly we the politicians, as men of affairs, we invite people for lunch or supper only to conclude something, and that's to say, getting something in return. But the Community is teaching us the contrary, that we can't live only in search for some interest. On Christmas, Sant'Egidio invites those who are not going to give back in return, if not only with their love. I attended the Christmas lunch last year. There were people of different denominations, of different believes that were sharing the same table, there was no any distinction among them. From the image of this lunch we can really understand the silent voice from it, as how God is made. He is just like this, He is the father of all! But amongst us are the divisions and distinctions that we create, and always looking for differences. I thank the Community for what they do at Christmas, and what every day for this City and this country.