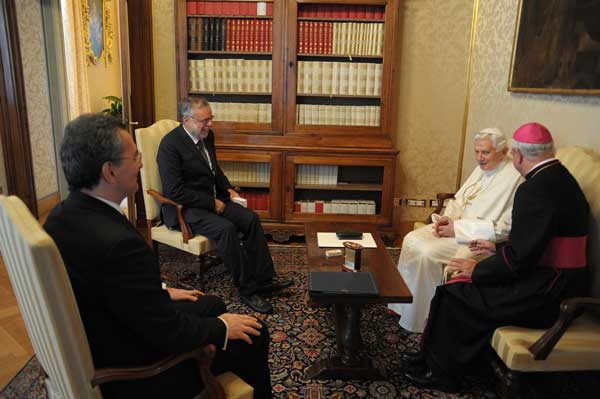 The Holy Father Benedict XVI received this morning in audience, in the Apostolic Palace of Castel Gandolfo, Prof. Andrea Riccardi founder of the Community of Sant'Egidio, Prof. Marco Impagliazzo, President of the Community of Sant' Egidio, and Mgr. Vincenzo Paglia, President of the Pontifical Council for the Family.
During the audience they approached issues concerning interfaith and ecumenism, on the eve of the International Meeting for peace, in the spirit of Assisi, that takes place in Sarajevo from 9 to 11 September.
The meeting, titled "Living together is the future", is of great importance because it takes place twenty years after the beginning of the Balkans war and gathers for the first time the different Balkan religious communities leaders: serbian orthodoxes, catholics, muslims and jews.
They also spoke about the Community of Sant'Egidio in Africa, where it is active in 30 countries with social and health services and is a relevant presence among the youth.
click to enlarge the pictures