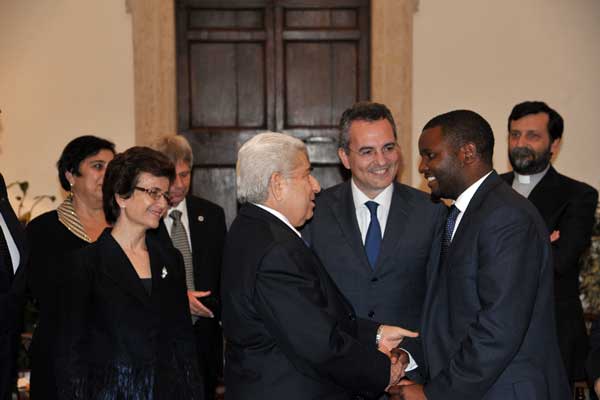 "we share a common vision, a dream: a world without injustice, in peace, we dream of winning over AIDS in Africa. This is why I feel I am like one of you". These are the words, full of sympathy, addressed by President Dimitris Christofias to the delegations of the Community of Sant'Egidio, led by the president Marco Impagliazzo, who welcomed him in Sant'Egidio yesterday afternoon.

President Christofias, who had met Pope Benedict XVI in the morning, visited Sant'Egidio accompanied by his wife and by a delegation which included the Minister of Foreign Affairs Mrs. Marcoullis, and the Ambassador to the Holy See, Giorgios Poulides.

During the visit, were retraced the stages of a friendship that dates back to many years: the meeting of prayer for peace organized by Sant'Egidio in Cyprus in 2008, the numerous visits of Archbishop Chrysostomos, primate of the Orthodox Church of Cyprus to Rome and the collaboration in the fight against AIDS in Africa with the DREAM program.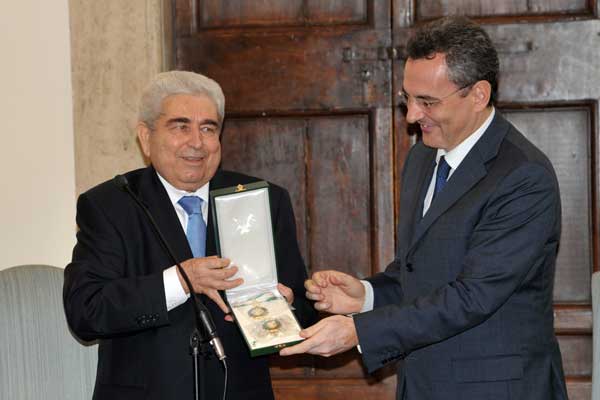 At the end of the meeting President Christofias awarded Marco Impagliazzo, president of the Community of Sant'Egidio, with the title of Grand Commander of the Order of the Merit of the Republic of Cyprus.
Click on the photos to enlarge them