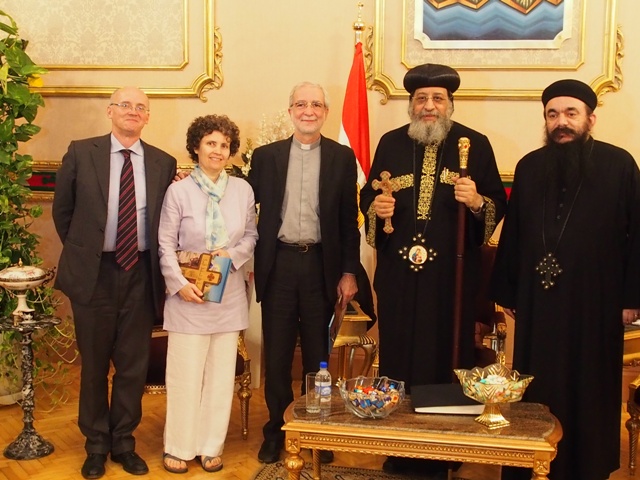 A delegation of the Community of Sant'Egidio visited Cairo in the aftermath of the swearing-in of the new president, Abd el-Fattah al-Sisi. The spiritual leader of al-Azhar, Ahmed al-Tayyib, the highest religious authority in the Sunni world, received with great affection and attention the friends of the Community, ensuring the presence of a significant delegation from al-Azhar at the next meeting of Antwerpen.
The delegation was also received with great sympathy by the Coptic Orthodox Patriarch, Pope Tawadros, at the patriarchal headquarters of Abbasseyyah in Cairo. Anba Tawadros remembered with esteem Papa Francesco, who he visited about a year ago, and congratulated the community for the next visit of the Pope to Sant'Egidio, entrusting us, on this occasion, with a message of esteem and affection.
Pope Tawadros, who will send a bishop to represent the seat of St. Mark at the next Prayer for Peace in Belgium, finally asked the Community to pray for the Christians in Egypt and throughout the Middle East, with particular reference to the situation in Syria and Iraq.