Homeless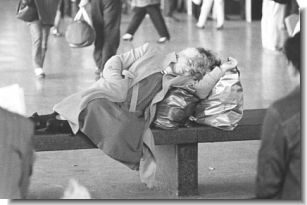 There are also those who live on the street because they have lost their homes. Sometimes the lack - even if temporary - of a job or a pension too small to survive on do not allow the payment of the rent, and, when there are no relatives able to offer hospitality, eviction becomes the starting point of a trip towards exclusion which is difficult to escape from.
Finding another home becomes impossible and the only hope is of finding a place in any housing institute.
Coming back to find everything gone
Many times on the street you meet people who have a story of emigration abroad. Sometimes, in the south of the world, it is easy to meet whole families of ex-refugees, that, upon returning home, have found everything gone.
The re-integration after you have left your country is not easy: you have to start again from zero, and find a home and a job. The obstacles are numerous, especially if you are not young anymore.