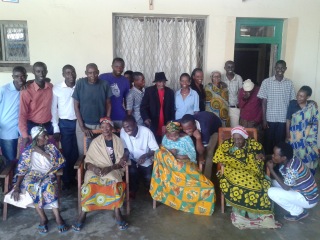 Burundi is going through a very delicate and difficult time, linked to the renewal of the office of the President of the Republic. After the failed coup attempt in late May, the situation is relatively stable, although a phase of uncertainty continues, there is serious violence. The Community, however, tried not to let the poor alone and to reach them as soon as conditions have improved. We receive an update of the situation from Bujumbura:
Burundi is going through delicate moments of its history. In recent days, the city of Bujumbura has lived to the rhythm of demonstrations. The security was not guaranteed to continue the normal life of the Community. But for nearly two weeks, the situation of security has improved.

The Community of Sant'Egidio, as soon as it was possible, resumed its mission. On Saturday 14 June, the friends of the Community visited the elderly of the Nursing Home "Elisabetta Nursing Home". The meeting with the elders was wonderful, after more than one month of absence. Marie Rose, an old woman of the Nursing Home, said: "We were worried. We were concerned that some of you had escaped, or been injured or even died, because we had no news of you, but we have always brought you in our prayers".

Together, we were committed to pray so that peace, tolerance and coexistence among all Burundians are safeguarded.

The Community has also visited the children of the School of Peace in Kinama. We found them traumatised by the events happened recently. Without places to retreat, they found themselves in danger as between a rock and a hard place. The visit of the Community has given them hope.

Moreover, Sant'Egidio has continued to meet, whenever the security situation allowed, to pray for peace in Burundi and in the world. Finally, note that, apart from Bujumbura, the Community has continued to live in friendship with the poor in the provinces of Ngozi, Kayanza, Gitega, Makamba, Bururi and Gihanga.