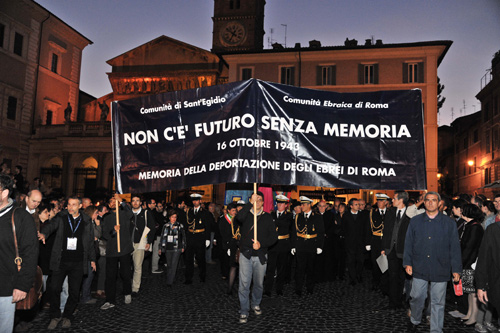 Every year growing numbers people – even more this time – take part in the march in memory of the deportation of the Roman Jews on 16th October 1943. Starting in 1994, the Community of Sant'Egidio and the Jewish Community of Rome organize the march every year.
The silent procession returned to that stretch of road more than 1,000 Roman Jews, deported from the ancient Ghetto, were forced to walk during the night, before being imprisoned in trains heading towards Auschwitz.
The commemoration gathered thousands of people, including many youth and immigrants. Such a numerous participation in a time when the city of Rome is shaken by episodes of fierce violence, is a sign of hope and responsibility for the citizenship – as many of the addresses underlined.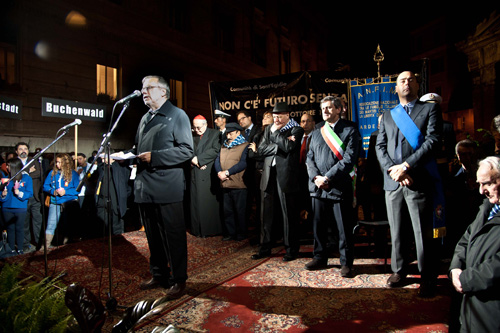 The speakers who intervened before and after the march were: Fr. Marco Gnavi – Community of Sant'Egidio, Riccardo Di Segni – Chief Rabbi of Rome, Riccardo Pacifici – President of the Jewish Community of Rome, Card. Augusto Vallini - Vicar of His Holiness for the Diocese of Rome, Gianni Alemanno – Mayor of Rome, Renzo Gattegna - President of the Union of Italian Jewish Communities, Nicola Zingaretti - President of the District of Rome, Renata Polverini - President of Region Lazio, Andrea Riccardi - founder of the Community of Sant'Egidio.

| | |
| --- | --- |
| SOME PICTURES | |
| | |
| | |