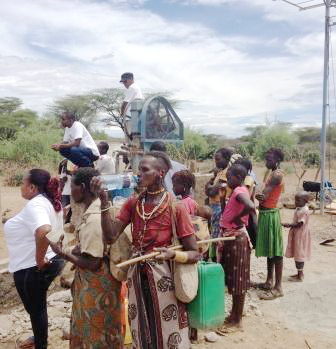 Great joy, last Saturday, in East Pokot, for the opening of two boreholes at Ndonyosaz, a semi-desertic region particularly struck by drought and inhabited by a semi-nomadic population.
The local people celebrated together with a delegation of the Community of Sant'Egidio for this gift which responds to a serious need in the area.

This water supply is part of the larger program of the Community to fight against famine, struggle which was brought on since almost three years here and in different areas of the country: in a short time this district will have three fully-working boreholes serving about 10,000 people. Till today, for most of the time of the year they had to rely upon one borehole only, together with the muddy waters they could dig out of the dry beds of seasonal rivers.
The boreholes are complete with purification implants to remove the noxious fluorides, characteristic of the local terrains. Especially women and children hurried to draw from the new borehole and sang out a song of feast and joy together with their friends of the Community of Nakuru.