Making Peace: The engagement of the Community for a peaceful transition in Guinea continues. Visit of the President of the National Transitional Council, Lady Rabiatou Serah Diallo
11 June 2010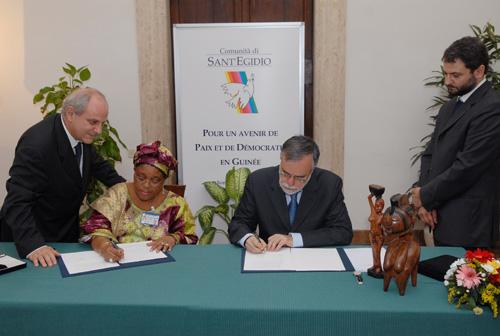 Following the delegation of all political and social forces of Guinea Conakry, who signed two weeks ago in Rome the Global Political Agreement in view of the future elections and also signed the Appeal of Rome to guarantee a peaceful transition, the President of the National Transitional Council of Guinea Conakry, lady Diallo, visited the Community of Sant'Egidio with which she formalized a protocol of agreement and cooperation.

In this delicate phase of the Guinean transition towards democracy, the meetings of Rome represent a fundamental step for the renewal of the country.

During her visit the President also met the Italian Minister of Foreign Affairs Franco Frattini, the vice President of the House of Representatives On. Rocco Buttiglione and Card. Peter Kodwo Appiah Turkson, President of the Pontifical Council for Justice and Peace.