Quelimane (Mozambique) - Friends of the elderly in Africa: a home and a family for Mariana
November 2, 2010
In Quelimane, as in many other towns in Mozambique, the elderly are struggling to live, because of poverty and prejudice that accuses those who live a long life to practice witchcraft and to steal the lives of young people. So happens that many elderly are abandoned by everyone and don't even manage to get food and have a house. Thus, after Easter the community "Eu Dream" started a friendship with some elderly in one of the poorest neighborhoods of the city. Mariana is one of them...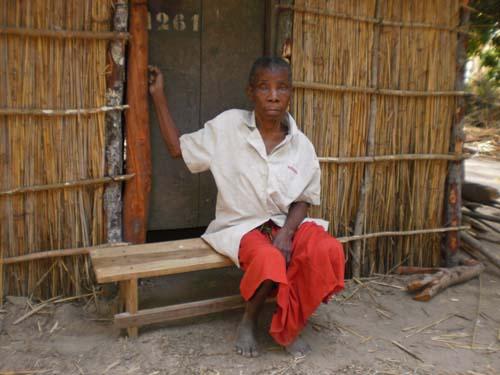 "Mariana doesn't know exactly when she was born, but she is old; her four children passed away and neighbors think that the blame is hers; they are afraid of her, they believe that whoever approaches her is doomed to die. The first time we met it was raining a lot and she was trying to protect herself with an old umbrella; she had not eaten for several days and her home was just a pile of straw she used to hide beneath, after passing through a narrow slit. When she saw us she was moved, saying that it was a long time since someone had visited her and spoken to her. "Now you are now my family!" she exclaimed. But then, if she is our relative, we can not accept her sleeping outdoors! In us was born the desire to help her to live better. Mariana mostly needed a house.
Early in the morning we went to the market to get the necessary equipment: poles, straw and rubber thread. Two vendors, curious about this strange load, asked us what it was for, and then they transported all the things with their cart. On arrival, they set to work with others. We all started working with hammer and nails, and she looked at us proud and kept saying "I'm happy." We were very surprised .. of ourselves: the house was coming up little by little, first the roof, then the walls, but in the end it was just perfect: small but stable. When the construction was completed there was so much happiness. We started to sing and dance to celebrate the new home and new family of Mariana. "