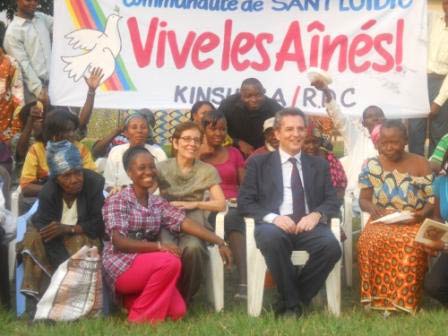 Thursday, July 7, the day before the inauguration of the DREAM Center, the delegation of the Community of Sant'Egidio present in Kinshasa, has visited the service of the Community of Sant'Egidio to the elderly in Kinshasa, and the children of the School of Peace.

For several years, in fact, the Community is next to the 28 guests of the "Home des viellards", a state institution for the elderly living alone and impoverished. As in other African countries, the condition of the elderly is made impossible by a widespread belief that sees in them dangerous people, "witches", to avoid and banish.

The visit, in an atmosphere of joy and deep friendship, showed the beauty and friendliness of the elderly, witnesses and protagonists of an intense history, between colonization and independence; in the Home lives Alfred, 105 years old, born when the Congo was the private property of the king of the Belgians, Leopold.

A friendship that proves the Community in the work of mending the relationship between the generations, so that many more may say "Vive les ainés!" Long live the elderly!