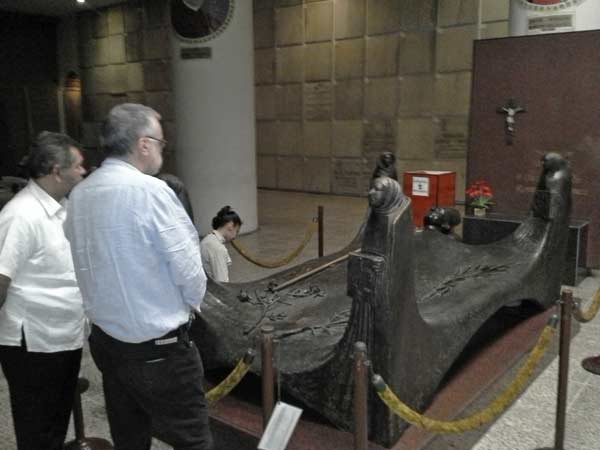 During his visit to El Salvador, Andrea Riccardi paid homage at the tomb of monsignor Oscar Arnulfo Romero, the martyred archbishop that gave his life to testify, in a time of serious violence, his love for the Gospel and for the poor.
The tomb, which represents the bishop lying and surrounded by 4 figures bearing the Gospel in their hands, is a place of pilgrimage and worship for many Salvadorans.
The desire for peace in El Salvador was the focus of the meetings of Andrea Riccardi with the Youth for Peace, young people between 13 and 20 years old, from various parts of the country, representing a resource of peace with their commitment to their neighborhoods, alongside the elderly or with children at the School of Peace.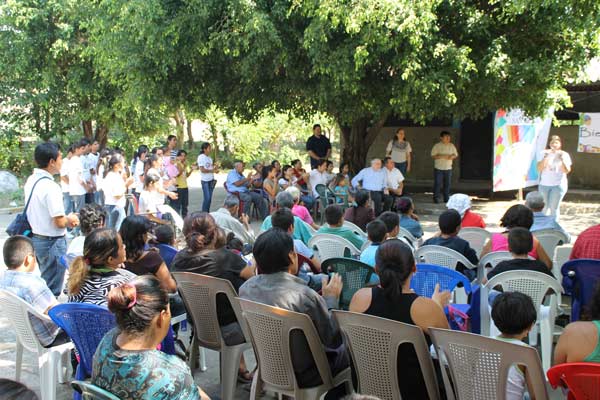 One of these meetings was held in Chanmico, a village of "people displaced" by the earthquake of 2001. It is located outside the capital, isolated, and has become in recent years the ground for the dissemination of "maras". The Community of Sant'Egidio in San Salvador, that immediately after the earthquake helped the survivors of the quake camped in the city, when the village was born, "followed" the families up to Chanmico. Years of faithful and steadfast friendship have enabled a generation of children to grow up in the School of Peace. Thus a Community of young people was born that want to commit to making their neighborhood better. They said it with joy and courage at the assembly that concluded the visit by Andrea Riccardi, who saw so many children gathered with their families and the elderly.
Andrea Riccardi then met, in the house of the Community, the Youth for Peace of the whole of El Salvador gathered at the meeting. Many, encouraged by this encounter, expressed their desire to be a resource for peace in El Salvador.
L'assemblea con i Giovani per la Pace