Cameroun: the Community is trying to improve the living conditions of the prisoners in Garoua and Maroua
7th June 2010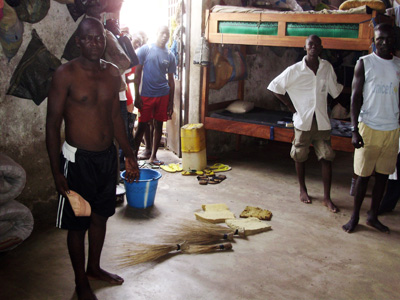 The Community of Sant'Egidio keeps on trying to improve the living conditions in African prisons.
In the central prison of Garoua, Cameroun, the situation is precarious as it's showed in the pictures below.
Moreover, this prison is one of the most overcrowded of the country. Living in close quarters, with poor hygiene, has led to the spreading of infections and diseases, among which scabies.

That's why the Community of Sant'Egidio of Garoua, that from some years is concerned in the care of the prisoners, has made the cells cleaned with disinfectant and disinfestant, got the prisoners be treated with antiseptic soap and antibiotics provided by the Community and has helped to organize shift cleaning of the cells and the lavatories by the same prisoners, to keep a proper level of hygiene.

These shifts of cleaning have started only in May, but it is already possible to see an improvement, so that the Community is thinking to extend the initiative in the prisons of Tcholliré 1 and 2.

Also in Maroua prison, on Sunday 23rd May, the Community of Sant'Egidio has donated 15 mattresses, that are now at the prison dispensary's disposal. The director sent a letter to thank the Community (PDF - FR)
| | |
| --- | --- |
| | The courtyard of Garoua prison (Cameroun) |
| The courtyard of Garoua prison (Cameroun) | Delivery of mattresses in Maroua prison (Cameroun) |