Rome: Prayer with the Roma and Sinti, to remember Mario and all Roma children who died in Rome in the Basilica of San Bartolomeo
September 27, 2010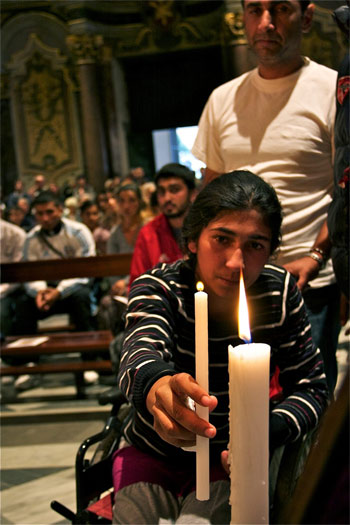 Emilia, the mother of the little Mario, lights a candle in his memory
Many people gathered in prayer yesterday at the Basilica of Saint Bartholomeo on the Island, around Marian and Emilia, young parents of Mario, the Roma children who died a month ago in the fire that destroyed the shack where he lived with his his family.
They were Roma, Sinti, Italians, among them the mayor of Rome, convened by the Community of Sant'Egidio, the Caritas of Rome and the Association Community Pope John XXIII. Many children. because the Roma people is largely a nation of young people. "How to bridge the gap that becomes an abyss, how to take care of their future?": The words of Msgr. Marco Gnavi, commenting on the Gospel of the rich man and Lazarus, question hearts.
Nadia, Sneza, Gabriele, Angelo, Lydia, Zvonko, Renko, Alex, Avdia... There is a great silence while the names of the Roma and Sinti children died in Rome in the last twenty years are read. More than fifty died burnt alive, or frozen, or drowning in rivers near the fields, or hit by a car.
Whole Roma families move in a composed manner to the large candle holders: each name is a candle. And the church, dedicated to the martyrs of our time, is illuminated with the light of these little lives violently cut.
Homily by Msgr. Marco Gnavi - (Luke 16, 19-31) - italian pdf text
| | |
| --- | --- |
| | |
| | |
| | |