"You are in the heart of the Church!"
The Roma of Europe in audience with Pope Benedict XVII
June 11, 2011
This morning, in Nervi hall, Vatican, Pope Benedict XVI received a delegation of about 2,000 Roma, Sinti and other gipsy groups from all over Europe. An unprecedented event, made possible by the collaboration between the Community of Sant'Egidio, the Pontifical Council for Pastoral Care of Migrants, and Fondazione Migrantes.
On behalf of all the pilgrims were given four speeches: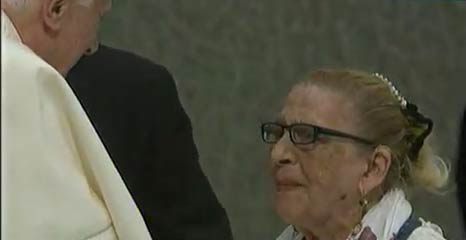 Testimony of Ceija Stojka ►
(An Austrian Roma woman, a survivor of the concentration camps of Auschwitz - Birkenau and Bergen - Belsen)
Testimony of Sister Atanazia Hobulova ►
(Slovak Roma, became Byzantine monks)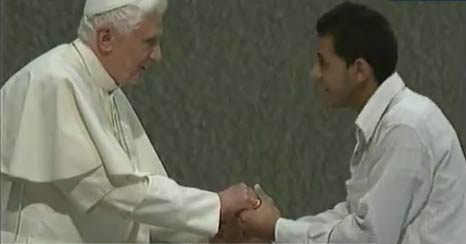 Testimony of Charles Mikic ►
(A Roma Rudari youth. Despite being raised in a gypsy camp, he studied and demonstrates that the youth wish a different future for themselves)
Testimony of Pamela Suffer ►
(She is an Italian Catholic woman in the group of Sinti. Young mother, she attests her devotion to the children and the faith of her people)

After thanking for the testimonies, the Pope addressed the pilgrims:
"... You have come to Rome from all over Europe to show your faith and your love for Christ, for the Church - which is a home for all of you - and for the Pope. The Servant of God Pope Paul VI addressed Gypsies in 1965, these unforgettable words: "In the Church you are not on the borders, but in some respects, you are at the core, you are in the heart. You are in the heart of the Church". Today I can repeat, with affection: you are inside the Church! You are a beloved part of the pilgrim People of God and you remind us that "here we have no continuing city, but we seek one to come"(Hebrews 13:14). (...)
Your history is complex and, in some periods, painful. You are a people who in past centuries has not lived nationalist ideologies, has not aspired to own a land or dominate other people. You have been left homeless and ideally have considered the entire continent as your home. (...)
"I invite you, dear friends, to write together a new page of history for your people and for Europe!"
During my visit to the concentration camp of Auschwitz-Birkenau, May 28th, 2006, I prayed for the victims of persecution and I bowed in front of the inscription in Romanes which remembers your fallen. The European consciousness can not forget so much pain! Never again will your people be subjected to harassment, rejection and contempt! For your part, always sought justice, the rule of law, reconciliation and try to never be the cause of suffering for the others! (...)
The full speech of Pope Benedict XVI ►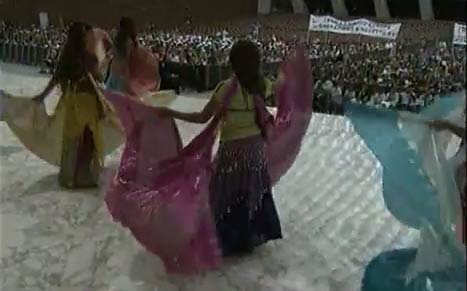 At the end, a group of Roma girls performed a gypsy dance.
After the hearing the President of the Community of Sant'Egidio, Marco Impagliazzo, said:

"The Pope's hearing with representatives of the Roma population was an historical event deeply joyful, moving and peaceful. An event that didn't elude the suffering and persecution experienced by Roma in the twentieth century.
The Pope has asked Europe not to forget so much grief.
After this hearing, from the pain of a story of suffering, it has born the hope that Roma can live together in peace and security with all European peoples.
The Pope's invitation to write together a new page in the history of the Roma minority in Europe remains a decisive word from which we can start again together, Roma and non Roma, to build a society of coexistence."
MORE: