A delegation of the Community of Sant'Egidio participated in the ceremony of investiture of the President of the Republic of Burundi, Pierre Nkurunziza. During the ceremony it was remembered that the president was awarded, during his precedent mandate, of the "Prize Sant'Egidio" for having abolished the capital punishment in 2008.

Later on the delegation was received in audience by the President, who is at his second mandate, begun after the long and bloody civil war that devastated the Country.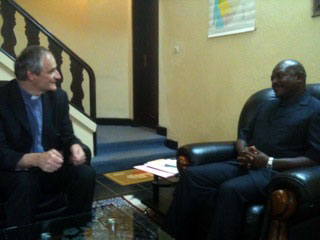 The Community of Sant'Egidio participated effectively since the beginning in the solution of the conflict, as it is reported thoroughly in the recently publicated volume "Fare Pace" ("Making peace").

The Community, in fact, after having been in a first phase organizing the talks between the belligerent, has later on presided over the Commission on the Cease Fire within the Official Negotiations of Arusha, first chaired by Julius Nyerere and then by Nelson Mandela, that led to the conclusion of the conflict and to the signature of the Peace Agreement.

An event reported exhaustively in the volume "Fare Pace".