Rome: "Right to school, right to the future". An inter-ethnic feast concluding the second year of scholastic integration for Roma children project
31 may 2010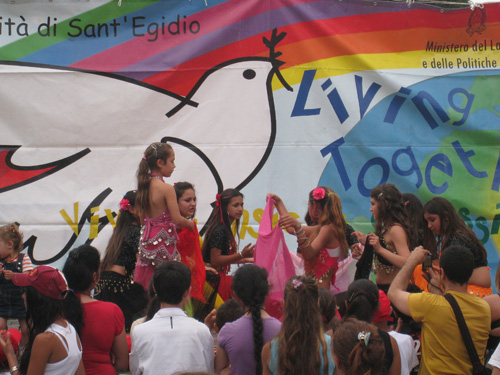 The end of the school year is time for assessment, also for the project " Right to school, right to the future" carried out by the Community of Sant'Egidio with the support of the Ministry of Labour and Social Politics, that today concludes the second year of activity.
In this case the assessment is widely positive. During the two years of activity the project has completely reached its goals: prevention and fight to scholastic escape, promotion of full participation of Roma pupils to school activities, prevention of intolerance, education to living together.

Data clearly show that:
the Roma children attendance, in the schools involved, increased of 21.3 percentage points: from 51,1% al 72,41%;
Roma children actively attended with many other pupils the afternoon laboratories designed to favour meeting and learning;
the extra teaching courses, started up by the teachers to improve scholastic performances, saw a good attendance and turned out to be a success.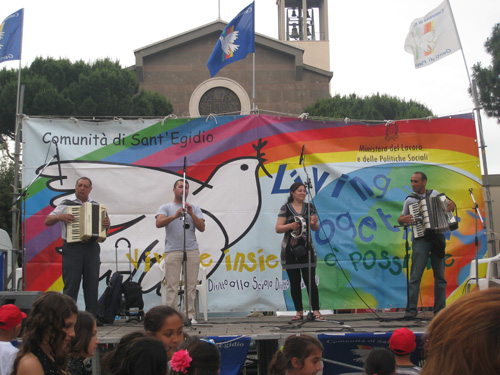 This was showed also by the feast held on the 29th May in Largo Agosta, Centocelle area, where gathered both Italian, foreigners and Roma children and families.
"Living together is possible": the title of the event, written on a coloured banner, has become a reality that starting from the schools, has spread across to the whole society.

Many artists and group performed in this occasion: the multiethnic children choir "Se...sta voce", "Ensemble pour la Paix" winner of the European contest "Music Against Poverty 2009", singers and dancers from Filipino Musical Academy, players of Roma Orchestra, some girls from Via dei Giordani camp who performed traditional Roma dances.