Conakry (Guinea) - Letter to the Community of beggars in Conakry
June 30, 2011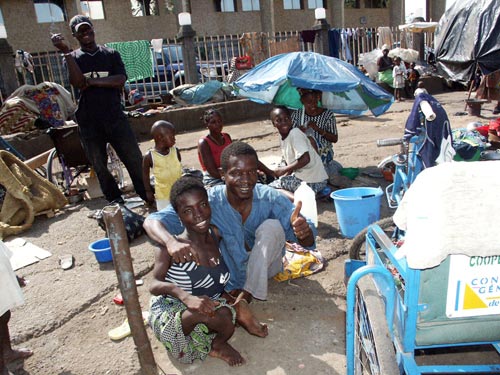 On 29 February 2009, a group of more than two hundred beggars (including many disabled people), with their families and their children were expelled from the Marché Niger, at the center of Conakry. As it happens unfortunately in many other European cities, also in the capital of Guinea the motivation was to "preserve the urban decor". The beggars were forcibly loaded into trucks, their poor things spread and they were brought to the far suburbs and left to fend for themselves.

The Community of Sant'Egidio has more than ten years a strong bond of friendship with these poor homeless. Just the day of the eviction, we asked the Ministry of Social Affairs to be able to find a space for them in the "Cities of Solidarity", a poor structure, partly dilapidated, on the outskirts of Conakry, in the district of Taouyah.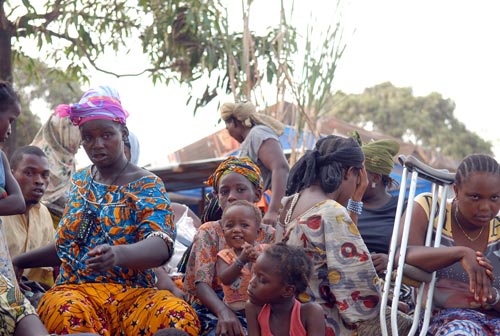 Since then, many initiatives have been taken by the Community to support and to help these people: the well for drinking water, the arrangement of some of the structures of the "Cities of Solidarity", the purchase of umbrellas to protect them from sun and rain, children's schooling, the school of peace, a constant medical aid, and then clothing and food support for all. In the summer of 2009, the beggars have been included in the plan for six months for emergency food aid, sponsored by the Italian Embassy in Dakar.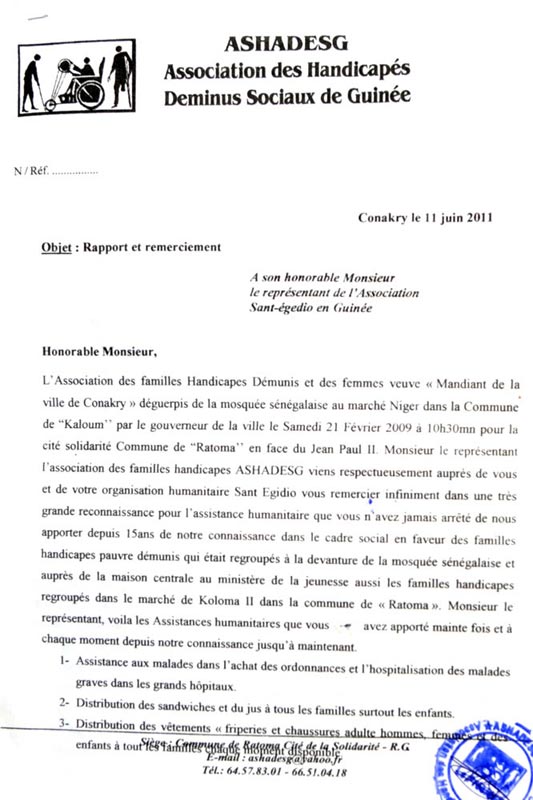 During a recent visit, the beggars, who formed a group (ASHADESG: Association des Handicapés Deminus sociaux de Guinee) have wanted to express their gratitude in a letter to the Community, for all that has been done for them, but above all, for loyalty to a friendship that has lasted more than ten years.

The letter, read in front of everyone, with emotion and with a loud voice from the president of the association, Mamadou Diallo, speaks of the joy of "continuous visits of young people of the Sant'Egidio Community," which "help us for years, and not tired to help and be with our children to help them study. "

Expresses "joy to be visited, cared for and supported by you, we who have been hounded and humiliated as well as strangers and shown on national television."

"Every year - continues - we are at Christmas dinner, to which we are instead accompanied as guests of honor."

And it ends with a request to God "to bless the Community of Sant'Egidio and all of its young volunteers who serve the poor."